Nurse's book recounts efforts by fellow nurse to start an Afghan nursing school for women in Baghlan, Afghanistan
By Brendan Dabkowski
Wednesday December 31, 2014
At the tail end of the 1960s, long before words like Taliban and Mujahideen would fall on Western ears, a young American nurse and Peace Corps volunteer traveled to Afghanistan to help establish an Afghan nursing school for young women.
Heeding President John F. Kennedy's call to action, Jo (Carter) Bowling, BSN, RN, joined the Peace Corps, and in 1968, launched a small school in Baghlan, Afghanistan devoted to empowering and educating young Afghan women and helping them learn the basics of nursing.
Fortunately, Bowling, who eventually went on to a healthcare career at Riverside Medical Center in Kankakee, Ill., kept a diary of those experiences. The diary became the basis for Susan Fox's book "Little Women of Baghlan: The True Story of a Nursing School for Girls in Afghanistan, the Peace Corps, and Life Before the Taliban," which Peace Corps Writers published in 2013.
Fox, an RN at Presence St. Mary's Hospital in Kankakee, has known Bowling for most of her career, having previously worked with her at Riverside Medical Center. Deciding her friend's story needed to be told, Fox talked with Bowling and breathed new life into Bowling's diary entries. Fox also conducted much investigative research to piece together a remarkable tale.
"The nurses in Afghanistan worked under horrific conditions," Fox said. She noted Bowling and the two other women Peace Corps volunteers the book focuses on had to contend with "a hospital without reliable running water, a lack of supplies and antibiotics and, not least, a population of women who were often denied medical care because their husbands would not allow them to be examined by a male physician."
Perhaps the biggest challenges Bowling and the other volunteers faced were religious restrictions and cultural differences. "The hardest thing was getting the fathers' permissions for their daughters to attend this nursing school," Fox said of Bowling's recollections. However, Bowling and the others always felt welcome and got along well with their Muslim hosts, Fox said.
Fox said the legacy of the women's work in Afghanistan is incalculable. "Training a nurse is more important to a country than building a city" is something one of Bowling's hosts told her.
Bowling, who is now retired, said she has known Fox since 1970 and trusted her to write the book. "She was really accurate to my diary. She did a tremendous job," Bowling said.
Fox's book is among the finalists for the Chicago Writers Association book of the year award in nonfiction for 2014. For more information, visit www.littlewomenofbaghlan.com.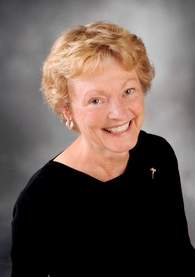 Susan Fox, RN
Brendan Dabkowski is a freelance writer.